About Us
Indian Franchise Association (IFA) is India's premier, non-political, not-for-profit body representing Indian Franchise Sector. IFA's endeavor is to promote, promulgate and popularize the concept of franchising as a mode of doing business across the industry verticals and to nurture the entrepreneurial skill of every Indian.
IFA catalyses change by working closely with stakeholders and policymakers on policy issues, enhancing efficiency, competitiveness and expanding business opportunities for franchise sector through a range of specialized services and global linkages. IFA also provides a platform for Franchise sector consensus building and networking.
Partnership with counterpart chambers across the world carry forward our initiatives of inclusive development in franchise business, which encompasses entrepreneurship, training, governance, skill development, etc. IFA serves as the first port of call for Indian franchise sector and the international franchise business community.
Vision: To represent the voice of Indian Franchise Sector.
Mission: To promote excellence and growth in franchising while serving the interests of its members at the same time.
IFA's Key Objectives:
· To formulate methods to improve the competitiveness of the Industry in India with regard to restructuring, productivity enhancement, increasing exports etc.
· To assist small and medium enterprises with high potential to invest.
· To promote the Indian brands in overseas markets and devise strategies to gain access to developed/ developing markets through Franchising.
· To actively participate with other industry associations (domestically and internationally) with the aim of solving issues related to trade and investment.
· To have a proactive dialogue with the Government to further identify various policy issues that need to be addressed in order to stimulate growth of the Franchise Industry in India.
· To encourage Industry – Government partnership for emulating best practices across the world, a way to make the Indian Franchise Industry more competitive.
· To professionalize and educate people in the franchise industry through research studies, surveys, meetings, seminars, workshops etc.
· To liaise with various related organizations, industry associations, financial institutions, government department on matters concerning the industry.
· To provide the legal information and current statistics on franchising;
· To organize Training courses for the potential master franchisees;
· To make the matchmaking between the foreign franchisors who are eager to enter into Indian market and the potential investors who are interested in purchasing the franchise rights in India.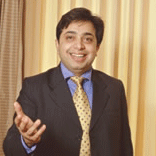 From Chairman's Desk: Franchising is one of the world's fastest growing and most lucrative modes of doing business. It is beneficial not only to the person who initiates a business but also to his partner who accepts this business concept and expands it in his own territory.
Franchising in India is still in nascent stage. Entrepreneurs are still learning this business concept and experimenting with different types of franchise formats. Franchising though a suitable method for expansion for many businesses, should be undertaken only by those who have the desire, perseverance and willingness to learn and accept an entirely new method of business promotion.
Indian Franchise Association provides a complete guidance to the franchisors and the franchisees before letting them venture into their businesses.